About GP Sorensen® Fuel Injection
Fuel Injector Parts
GP Sorensen offers full coverage for import and domestic vehicles, with an unsurpassed range of premium-quality injectors and fuel system components that meet or exceed OE. Standard fuel injectors are built in our TS16949-certified OE manufacturing plant, where they undergo extensive testing to ensure precision quality, enhanced performance, and improved durability.
We design and manufacture an array of injector styles with matching flow rates, spray patterns, and body styles, including disc and pintle configurations.
High-quality brass windings

High precision rated stainless steel springs

Precision lapped disc valve

Precision ground pintle assembly

Spray pattern insert to match OE pattern
Fuel Injectors
The fuel injector is an electronically controlled valve that is supplied with pressurized fuel by the fuel pump and when energized atomizes the fuel into a fine mist so that it can burn easily in the vehicle's engine. 
Multi-Port Fuel Injectors
GM's Vortec engines come with a Sequential Port Injection System (SCPI). Our Multi-Port Fuel Injection (MFI) system has several advantages over the original Sequential Central Port Injection (SCPI) system, including port fuel delivery and high reliability, better hot starts and reduced vapor emissions, and faster prime on hot restarts.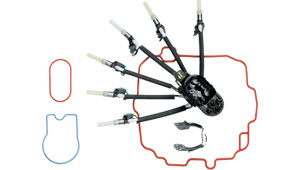 Gasoline Direct Injection (GDI) Fuel Injector
With GDI becoming more popular in late-model applications, we're leading the way with coverage and quality. Our advanced flow-matched Gasoline Direct Injection (GDI) injectors promote smooth engine operation and balanced fuel delivery, reducing overall fuel consumption and harmful emissions.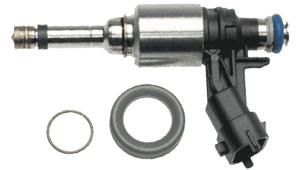 Fuel Pressure Regulator
In addition to controlling fuel pressure in the engine, the fuel pressure regulator ensures that a vehicle's fuel injectors are receiving and dispensing fuel at their proper rates. With more than 450 fuel pressure regulators in our line, we have you covered when this part fails.